Musicologist Thea Derks' article about Vanessa Lann in Keynotes Magazine, a Donemus publication. March 1998
Vanessa Lann:

'I focus on a limited amount of material'

(Photo credit, Vanessa Lann: Tom Broido)

Soft sucking and breathing sounds, interspersed with a snapped clapper and rustling bells create an atmosphere of suspense in Madness and the Moonwoman. Pitched instruments gradually take over, playing long-held notes rather than melodies, with a staccato chord at the end. As in Schoenberg's Klangfarbenmelodik the instruments grow organically from one another and the orchestra is like one breathing organism. About at two-thirds of the piece church-bells in a bleak landscape herald the return of the murmuring noises of the beginning, while the pitched instruments fade away.
The composition is typical of Lann. It shows her interest in the physical aspect of sound and it has a clear structure in which a silent and open beginning is followed by an intensification and succesive thinning-out of the texture. Though the end mirrors the beginning, she doesn't conceive of this as a proper A-B-A form:
'To me the coming out of the intensity, especially in my slower pieces that deal with meditation, trance or dream, is as important as the going towards it. Listeners have an experience of starting off in a world that doesn't yet make sense, but through the use of repetitive elements, or an increased density of the instrumentation or number of notes, they may gradually come to an understanding of what role a seemingly meaningless detail plays in the piece. Around where the golden section would occur, a pizzicato that has been spaced far apart might become a quick appoggiatura that makes you say 'oh', and realize what the original material meant. It's this 'oh' that fascinates me in music. Therefore I'd say it's not so much A-B-A, as it's a B and then a very often quite exact backward repetition of A'.
Lann labours long over her compositions, lying awake at night if she can't find the right answers. This goes back to her teacher RUTH SCHONTHAL, who insisted she find the best note in the best place. 'She would say: take something good and make it even better'. When Lann came to study with Schonthal on her thirteenth, she already had a background of writing fugues and analysing Bach chorales at the local conservatory. Schonthal continued training her in traditional harmony with a strictness that would not allow easy solutions:

'Schonthal made me critical of myself in a positive way. She was very much interested in surprise in music. So I'd come to her with something I'd written in a 4/4 metre and she would have me look at it to see where I could lose a beat and make it a 7/8 measure in order to give it that slight energy. Or she would take a tonal piece and have me pick notes that with accidentals would be a little more challenging to the ear. Schonthal still influences the way I work. I'll basically focus on a very limited amount of material. I write in layers, starting generally with the structure or the conceptual idea and the bursts of energy versus the amount of static time. Thus using the element of time and proportion I lay the background down, and the overall feeling the work should create in the audience. Then I add the colourations, putting gracenotes in certain places systematically, or doing something with vertical harmony that I hadn't considered at the beginning. In general I write linearly. Not only the pitches are linear, but usually my instruments play certain roles, so that a layer of activity will be going on in a particular instrument or instrument group. This will either stay the same or develop in the course of the piece. I regard the instruments as individuals having a dialogue with each other. Therefore I don't combine notes vertically, but in the sense of time passing, and what happens proportionally'.
Lann's pieces have a strong ritual element, because of the ostinato-patterns, the frequent repetition of elements and circular form.
Sometimes there's a strong emphasis on the visual aspect. This can be lighting, as in Lullabye for a young girl dreaming for string quartet, where Lann insists on a blue light in the hall to create a dreamlike atmosphere for both performers and audience. While all the silences are shared with the listeners, there's a big tension, and this forms an intrinsic part of the composition.
In Towards the Center of Indigo for the Syrinx Saxophone Quartet, the players chant the word indigo, whilst being surrounded by indigo light. The chants builds and builds until they do play, but this turns out to be a kind of whirling music that goes along with the chanting. It develops into a frenzied shout and then drops back again.
Something similar happens in Prayer, Torture and Ecstasy for solo cello, where the repetitive nature of the fragments and the three basic curve forms of the pitches correspond to the direction of the bowing. Lann:
'It's as if the cellist is leaning over a prayer object and is doing a rite of passage and a discovery. Left and right are clearly demarcated in the score, and when the piece is at its most busy, it should give the impression the frenzy is taking over the entire body of the performer'.
In spite of these characteristics, Lann feels no kinship with the British composer Harrison Birtwistle, who also conceives of his works as rituals.
'He uses the term in a completely different way. When I say ritual, I don't mean it has to have a particular story, or refer to something spiritual or religious. I use a minimum of elements, whereas he tends to have many different things going on at the same time, and it's a challenge to find out where everything is being put together. My material reoccurs at specific points and in the growing or the lessening of it, and in its reference to what came before, one experiences new insights on that material. It's a path one follows while listening to the music, and hopefully it's a different one each time one listens. At a certain point they perhaps realize that what at first seemed to be the background, may well have been the main material. It's all got to do with my fascination for illusion and reality'.
All of this doesn't mean Lann only writes heavy-handed stuff; a work like The Owl and The Pussycat for piano and singer has a light-hearted cabaret aspect in that it reverses the roles of singer and accompanist. The pianist basically recites the poem by Edward Lear, while the singer intones true pitches, but on nonsense syllables, playing an imaginary guitar. And in DD (Double D) for piano solo, the pianist plays with hands crossed over the keyboard throughout the piece. Lann:
'It's based on a repetitive note D, that becomes a D-flat as the music goes along. The crossed hands are entertaining for the audience, especially for those who know the meaning of a "double D" bra-size.
(photo: Vanessa Lann and Theo Loevendie
at Tanglewood Music Festival USA)
It was Theo Loevendie, with whom I came to study in 1990 after having graduated from Harvard University, who made me aware of the playfulness and fun of instruments. He encouraged me to place myself in the shoes of performers. I'm frequently mathematical and tend to be intrigued by systems I set up. Initially I wasn't excited by the experience that the player would have in a fun way. I was aware of the possibilities of the instruments and what would make a beautiful sound when combined with whatever else. But Loevendie suggested I write a couple of pieces without pitch, where I just deal with the instrumentalists having a good time'.
This resulted in Piece of Pizza in which 5 percussionists rattle pots and pans, fry a piece of pizza and eat it. Another work is American Accents for percussion duo which is based on scat-singing. For her it was a liberating experience to concentrate not only on structure and pitch-format but also on the 'performance aspect' of the music. She now integrates this aspect in her music frequently.
Vanessa Lann doesn't compose for the human voice that often and when she does, she hardly uses it in a traditional, melodic way. What does the voice mean to her?
'I love poetry. My father, Richard Lann, is a poet and I grew up surrounded by words. Words fascinate me; the vowels and consonants. In Coming Home for the Maarten Altena Ensemble, set to a poem by my father, the meaning of the words is important and the singer is acting as an instrumentalist. She holds the 's' of 'still', the first word of the poem. The 't' is spoken by the violin and the double bass whenever they play a pizzicato. And the rhythm in the words dictates the rhythm of the electric guitar's pop melody, which the singer repeatedly attempts to 'sing' on one breath.
In Herman's Song the piano repeats a simple melodic motif from beginning to end, while the countertenor speaks in an agitated way, sings arioso parts on aah or oeh, or recites in a style reminiscent of Gregorian chant. This work appears to be based on a biographical poem by Richard Lann:
'It refers to his grandfather who immigrated from Poland to the USA at the beginning of this century. He was a cantor in a schul and the more he became respected in the community, the less time he spent with his wife, Rose. The spoken voice in this situation is used for references to the man Herman. In the beginning when he speaks so quickly that you can't understand the words, it indicates the haste with which Herman undertakes his voyage. The high melismatic singing refers to Grandma Rose, the forgotten person in the poem. The chanting on 1 or 2 notes alludes to Herman's position as a cantor, and indeed there are similarities between Jewish religious singing and Gregorian chant. The piano with its repeated pattern of notes is like time going by, symbolizing the "calendar of lonely tins and jars" of Rose waiting for her husband to come home'.
Simplicity, repetition, trance, illusion and reality form a central aspect of Lann's work. She demands her listeners to reflect on the material she offers, hoping for them to pick up different aspects each time they listen. Thus listening becomes a ritual act, like Zen meditation, where one keeps repeating a phrase during a lifetime. Lann:
'Your reaction to this word or question changes as you go through life, and it's somehow your response to your own response that helps you determine who you are'.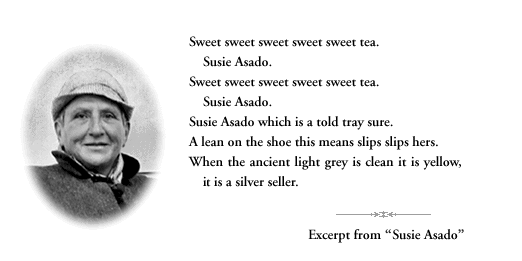 (Photo: Gertrude Stein)
Recently she has taken an interest in live electronics: 'I like the idea of picking up something so subtle that you would otherwise have glossed over. Being able to focus on this tiny little thing and see the beauty in something so close to something else, I find a fascinating point of departure.'
For more biographical information about Vanessa Lann (temporarily only in Dutch; publisher is revamping catalogue): article from DONEMUS Composer's Brochure and bio from DONEMUS Composer's Brochure